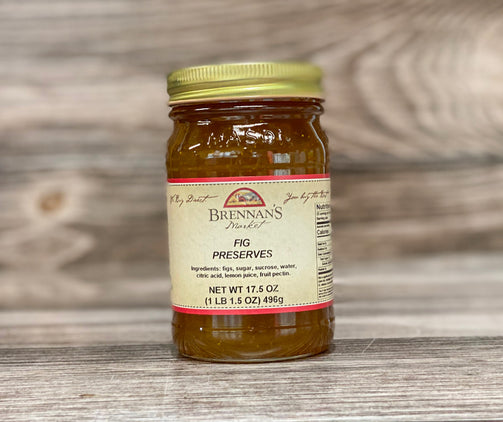 Fig Preserves
Fig Preserves
Ready to Ship

Sale price

$9.99
Brennan's Fig Preserves- JUST LIKE GRANDMA USED TO MAKE
Our Fig Preserves are delicious and versatile. Here are just a few tasty ways to use:

Add to your cheeseboard.
Bake with Brie in phyllo cups for an easy tasty appetizer.
Spread on crostini with goat cheese, prosciutto and balsamic vinegar for a tasty appetizer or lunch.

Combine with rosemary and balsamic vinegar and use as a glaze for chicken, pork, or kebabs.

Spread it on toast, English muffins, or biscuits instead of jelly.

Mix with oil, balsamic vinegar, salt and pepper to make a vinaigrette.

Spread on melted baked brie fresh from the oven.

Use it in grilled ham & cheese sandwiches.

What are Preserves? Preserves are made from whole fruit where jam which is made from pureed fruit. Jelly is made from fruit juice. 

Net weight: 20oz 
Ingredients: figs, sugar, sucrose, water, citric acid, lemon juice, fruit pectin. 
Couldn't load pickup availability