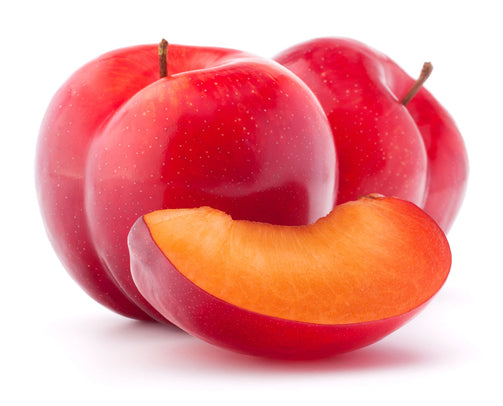 Plumcots-Assorted Varieties
Plumcots-Assorted Varieties
Plummy Plumcots (also known as Pluots)
Current varieties 9/13/23:
King Kong
Flavor Gator
Gold Rush
Emerald Beauty
Mix a plum with an apricot and you're left with deliciously sweet fruit- the plumcot.

The sweet apricot qualities cancel any sour plum hints and add a different flavor twist to the fruit. Their sugar content is much higher than that of standard apricot and plum varieties, yielding fruit of incomparable sweetness.
The sweet flavors of plumcots make them an easy snack or a great ingredient for cooking. Our fruit experts can help you pick the perfect plumcot- one that's not too soft or hard and has a fragrant aroma.
Enjoy plumcots on the go for a healthy snack. Plumcots have lots of Vitamins A and C and beta-carotene which can help reduce cancer. They are also fat-free, sodium-free, cholesterol-free, and a good source of potassium, antioxidants, healthy carbs, and fiber.
Our produce departments will be offering almost 30 different types of plumcots throughout the summer, so check back often for new varieties. Enjoy them all summer long as a substitute for plums in salads, cakes, tarts, bread, and sauces for a sweeter take on a traditional recipe!
Couldn't load pickup availability