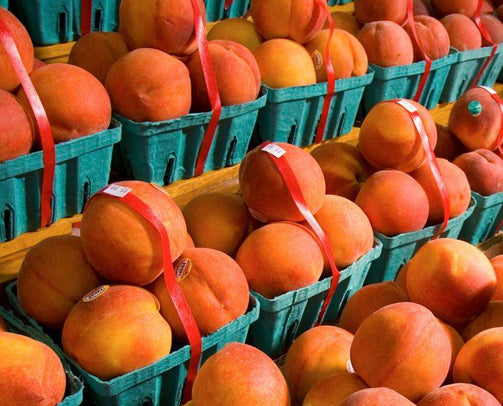 Chin Drippin' Idaho Peaches
Chin Drippin' Idaho Peaches
$47.99  case (40/44 count)

$24.99  1/2 case (20/22 count)
Also available by the lb ($3.99) and the box ($7.99 6-count)
Brennan's Chin Drippin' Idaho Peaches
Proven year after year to be the best peach ever - this year is no exception.
Packed with the brilliance of the Idaho sun and nourished with water from fresh mountain streams, these beauties are uncontrollably delicious. Their deep golden skin, delightful blush, and enormous size guarantee you the chin drippin' juice and intense peach flavor you long for.
Peaches are not only sweet and delicious but they're also packed with Vitamin C, iron, and potassium. They are also fat-free! These health benefits make peaches a smart choice for you and your family.  Chin Drippin' Idaho Peaches are the ultimate for canning, freezing, and pies, or have them for breakfast in yogurt or on top of cereal, eat them at lunch with cottage cheese or add them to Brennan's Premium Vanilla Ice Cream for a delicious dessert.
Guide to Freezing and Canning Chin Drippin' Peaches
Couldn't load pickup availability