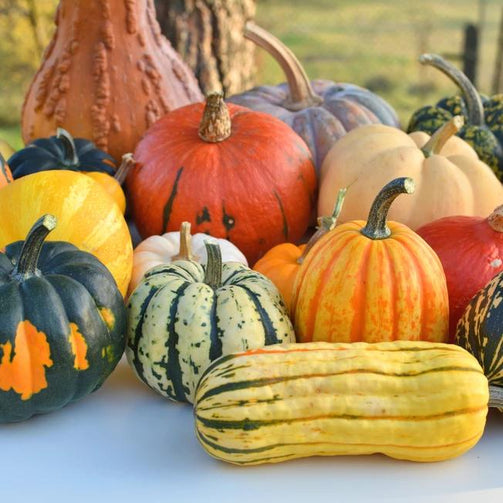 Locally Grown Squash
Locally Grown Squash
.99 lb
Squash 101: Here are a couple of squash tips to get the most out of the season.
Handling and Storage: Don't put them in the fridge. They keep the best whole in a dry, well-ventilated area that's between 50 to 55. Once it's been cut up or cooked, the squash can be refrigerated, where it'll keep for a week.
Cooked squash can also be frozen; simply place it in a freezer-safe container or bag, leaving about 1/2-inch of space from the seal, and it will keep for about a year.
A one-pound squash will provide about two servings after the rind and seeds are removed.
Squash Varieties
In Stock
Acorn Squash: Don't let its petite size fool you: the acorn squash puts up quite a fight when it comes time to prepare it, thanks to its tough skin and sturdy flesh. Luckily, there's no need to peel acorn squash; simply cut it in half and scoop out the seeds before roasting (its most common preparation method). Once cooked, it has a delightfully mild, sweet taste.
Butternut Squash: Butternut Squash has finely textured bright orange flesh. The delicious meat is reminiscent of sweet potatoes and can actually replace them in most recipes whether they are baked, steamed, pureed, or cooked in soups and stews. We love them in pasta, risotto, and enchiladas.
Delicata Squash: Popular in the early 1900s, this heirloom variety is& enjoying renewed favor thanks to its fine, creamy flesh, which tastes similar to sweet potatoes and& butternut squash. And, yes, you can eat the skin (no peeling necessary). Great for: Roasting and stuffing.
Spaghetti Squash: The biggie of the bunch, spaghetti squash routinely clocks in at upwards of 5 pounds. Its pale yellow, oval-shaped exterior encases a vibrant orange flesh inside, which, when roasted and flaked with a fork, produces spaghetti-like strands (hence its name). Because of its shape, texture, and mellow flavor, spaghetti squash can easily double for pasta. To prepare, cut in half and remove the seeds before roasting.
Buttercup Squash: Buttercup Squash has hard, thick skins and only the flesh is eaten. The deep yellow to orange meat is& reminiscent of sweet potato. Buttercup Squash may be cooked whole or split lengthwise (removing seeds). Pierce whole squash in several places and bake& halved squash hollow side up. You can also steam them.
Out of Stock
Fairytale Squash: It's easy to imagine a fairy godmother transforming one of these pumpkins into a magical coach. Like all squash, the fairytale is highly nutritious, low in calories, and rich in fiber and antioxidants. You can serve roasted slices (use the ribs as your guide& for slicing) as a side dish, or use the cooked& squash in soups, stews, and desserts.
Sunspot Squash: A dark red buttercup hybrid with excellent dry flesh. The perfect size personal buttercup squash,  measuring 4" by 6" and weighing 1 to 1-1/2 pounds- just large enough for a small family. A dark red buttercup hybrid with excellent dry flesh.  Great for roasting.
Sweet Lightning Squash: Sweet Lightning has both outstanding decorative and eating qualities, and its small size makes for great "single-serving" use. The name refers to the quickness of preparation: cut out the stem and empty the seed cavity, place in the microwave, and in just minutes you have a great treat.
Turban Squash: Turban squash looks like, well, turbans. They're multicolored in shades of orange and green and have golden-yellow flesh. The flavor is reminiscent to hazelnut. It is popular for centerpieces, and its top can be sliced off so it can be hollowed and filled with soup.
Jarrahdale Squash:  Jarrahdale's tasty flesh is thick, sweet, and rich golden-yellow to orange in color, and it is great for purees. It has a very small seed cavity and thin but extremely hard skin.
Carnival Squash: The delicious yellow meat is reminiscent of sweet potatoes and butternut squash. It can be microwaved whole, just pierce the whole squash on each side. Split lengthwise (removing seeds) and bake filled with butter and maple syrup.
Redeye Squash: The Red Eye is slightly flattened in shape& with a deep rich red color and some white streaks running through it. Not only is this squash pretty, it is also excellent for& eating. Cut, seed, slice, and roast.
Couldn't load pickup availability