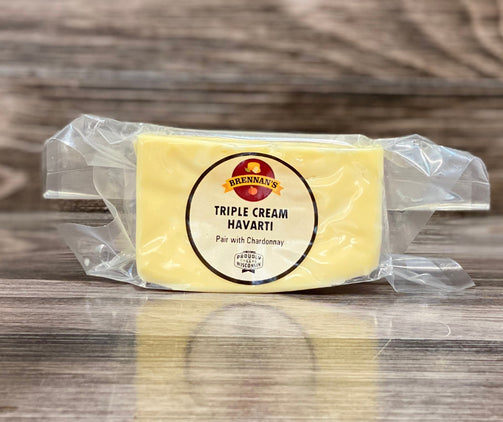 Triple Cream Havarti
Triple Cream Havarti
Ready to Ship

Sale price

$5.99
Wisconsin Triple Cream Havarti Cheese
Our Havarti cheese collection includes traditional, Full-Cream and Triple Cream. Havarti is made from high-pasteurized cow's milk. Cream Havarti is prepared by the same original recipe but is enriched with extra cream. Cream Havarti ripens very little and has a smooth texture with a slightly acidic flavor. 
Havarti is great sliced on sandwiches, especially turkey, makes a tasty fondue and melts wonderfully. You can also bake it as you would a Brie. Wrap an 8-ounce piece in puff pastry, brush on egg wash and bake at 425º F until golden brown. Serve hot with fresh fruit such as apples or pears for a party appetizer.
100% Wisconsin Cheese
Net wt: 8.72oz
Because our cheese is hand-cut, your cheese may arrive slightly more or slightly less than listed net weight.
Couldn't load pickup availability