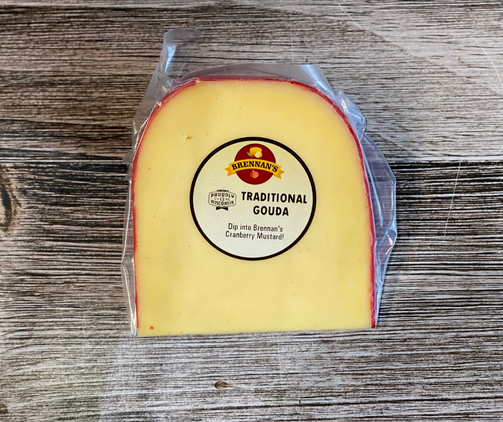 Traditional Red Wax Gouda
Traditional Red Wax Gouda
Ready to Ship

Sale price

$9.99
Wisconsin Traditional Red Wax Gouda Cheese
Did you know that the color of the wax or wrapping on Gouda indicates the age? Red-waxed Gouda is mild, young, smooth, creamy and slightly nutty.
Gouda melts well and it's great in casseroles. Layer fresh apples and slices of Gouda in a baking dish, sprinkle with sugar-cinnamon crumb mixture and bake. You can substitute Traditional Gouda in most recipes that call for Colby, Edam on Mild Cheddar.
100% Wisconsin Cheese
The more you know:  The Dutch pronounce Gouda as "khow da." The starter culture added to Gouda and Edam results in what cheesemakers call "sweet curd" cheese. 
Net wt: 10.66oz
Because our cheese is hand-cut, your cheese may arrive slightly more or slightly less than listed net weight.
Couldn't load pickup availability