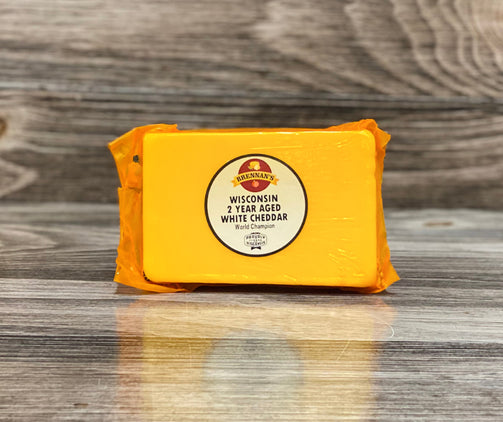 2-Year Aged Wisconsin White Cheddar
2-Year Aged Wisconsin White Cheddar
Ready to Ship

Sale price

$9.99
2-Year Aged Wisconsin White Cheddar
One of our only White Cheddars (we like our yellow Cheddar in Wisconsin), our 2-Year Aged White Cheddar has a rich, nutty, creamy flavor. 
What Happens When Cheddar Ages?
As Cheddar ages it releases extra moisture, really concentrating and focusing the flavors. The loss of moisture also changes the texture. The cheese will become crumblier and flavor crystals will form.
What's the Difference Between Your Aged Cheddars?
We think the best way to experience the difference between our Aged Cheddars is to try them side-by-side.  A vertical Cheddar tasting!
100% Wisconsin Cheese
Net wt: 14.54oz
Because our cheese is hand-cut, your cheese may arrive slightly more or slightly less than the listed net weight.
Pairing
Paring: 2-Aged Wisconsin Cheddar
Beer: off-dry, mature beverages that have just a touch of sweetness
Saison Ale
Cider
Bock 
Belgian Ale
Wine: 
Chardonnay
Champagne
Syrah
Pinot Noir
Chianti
Spirits: Bourbon & Single Malt Scotch
Serving
Serving 2-Year Aged Wisconsin Cheddar
Leave the melty, ooey-gooey dishes to young cheddars.
Aged cheddar likes to be eaten with a little sticky sweetness, so serve it with a homemade jam, chutney or honey. We love it paired with Tait Farms Mango, Cranberry or Apple Chutney, Terrapin Ridge Champagne Honey Mustard, Concord Farms Raw Honey, or our own Apple Butter. 
Pair with sweet pickles or pickled beets. 
It makes for a classic English Ploughman's lunch (cheese, fruit and veggie board). 
Team with big, peppery green salads, a warm grain salad (barley, farro, quinoa) or most hearty soups like Potato Cheddar
Ingredients
Ingredients: Pasteurized milk, cultures, vegetable enzymes, salt, annatto color (if colored; a vegetable extract)
Couldn't load pickup availability