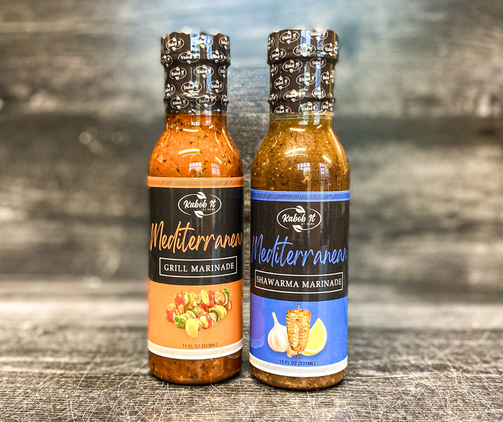 Kabob It at Home Grilling Marinades
Kabob It at Home Grilling Marinades
Kabob It At Home Grilling Marinades

You won't believe the flavor you will get in 30 minutes! Vegan, Zero Sugar, Gluten Free & Free from the top 9 allergens! 

$6.99 each
Mediterranean: Mediterranean Grill Marinade will be your new kitchen staple! Pick your protein, marinate for 30 minutes & cook until desired temperature. It's that easy! The mix of lemon juice, olive oil, tomato paste & spices will you feeling like a professional chef in no time.
Shawarma:  Shawarma is a traditional Middle Eastern dish that is typically cooked on a vertical broiler and shaved off to order. The mix of lemon juice, olive oil, red wine vinegar & spices will bring a comforting aroma to your home.
About Kabob It At Home: Nabil Baroudi was born and raised in Tripoli, Lebanon. He brought his family recipes to Ohio and launched his first two restaurants in 2009. Kabob It at Home was created to give everyone the chance to enjoy delicious Mediterranean food at home. Enjoy!
Couldn't load pickup availability