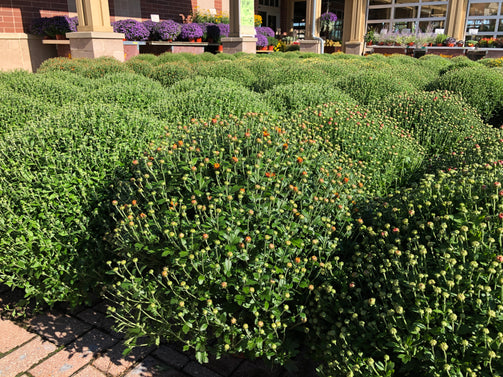 Garden Mums
Garden Mums
$9.99 each

We love mums! They are big beautiful balls of flowers. They also remind us that soon the leaves will change colors and fall holidays are approaching. Here are a few things to know about mums.
Garden mums are the same thing as hardy mums. Mums need special care to make it through the winter. Mum overwintering is dependent on placement, pruning, and conditions.
Mums have continuous blooms. 

Behind every set of flowers is a set of buds ready to take its place. To enjoy flowers all fall, deadhead any spent flowers.

Water mums at the base to prevent splitting. When watered from the top, the individual mum plants will eventually split apart. Watering mums at the side of the pot will prevent the container from splitting.
Couldn't load pickup availability