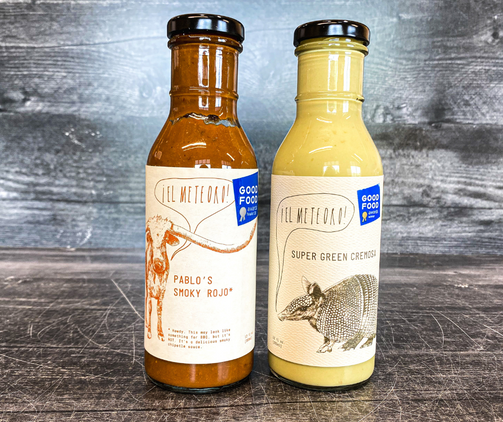 El Meteoro Sauces
El Meteoro Sauces
El Meteoro Sauces

What can't you put these sauces on is the question. 
$8.99 each
Super Green Cremosa Sauce:  This creamy, but vegan, sauce is a little spicy. Simply perfect for tacos, burritos, seafood, and poultry. 
Pablo's Smoky Rojo: A little spicy with a smoky richness you'll find irresistible. Great on tacos (especially breakfast tacos), beef, nachos, poultry and pork. 
About El Meteoro!: El Meteoro  is what you get when you swirl together three gringo transplants living in the weird and wonderful place called Austin, Texas.  We make sauces you can add to just about anything - and trust us, we've been doing so since we opened the doors of our café, The Meteor. 
Couldn't load pickup availability