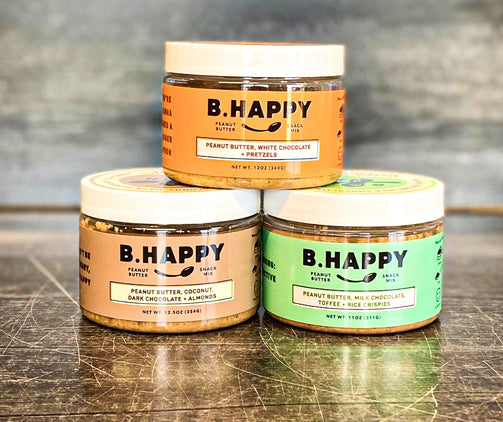 B. Happy Peanut Butter
B. Happy Peanut Butter
B Happy Peanut Butter

$7.99 each
Dream Big (12oz) PEANUT BUTTER, WHITE CHOCOLATE + PRETZELS
Close your eyes. Imagine crunchy pretzel pieces swimming with silky smooth white chocolate chips in honey roasted peanut butter.
Go Lucky (11oz):  PEANUT BUTTER, MILK CHOCOLATE, TOFFEE + RICE CRISPIES
Make your day with this mix of high quality milk chocolate, bits of toffee and rice crispies in honey roasted peanut butter.
Don't Worry (12.5oz):
PEANUT BUTTER, COCONUT, DARK CHOCOLATE + ALMONDS
Coconut lovers unite! This classic combo of dark chocolate, shredded coconut and almonds in our honey roasted peanut butter is sure to make you leave the worries of life behind.
About B Happy Peanut Butter
A family-owned and operated company in Zionsville, IN, B. Happy Peanut Butter began as way for the Weed  Family to teach their kids about running a small business.  Their goal was to make a small batch peanut butter so good, so unique, and so addictive that you would want to "just eat it with a spoon." We think they have succeeded! 


Couldn't load pickup availability